Making Over My Morning…Like a Night Owl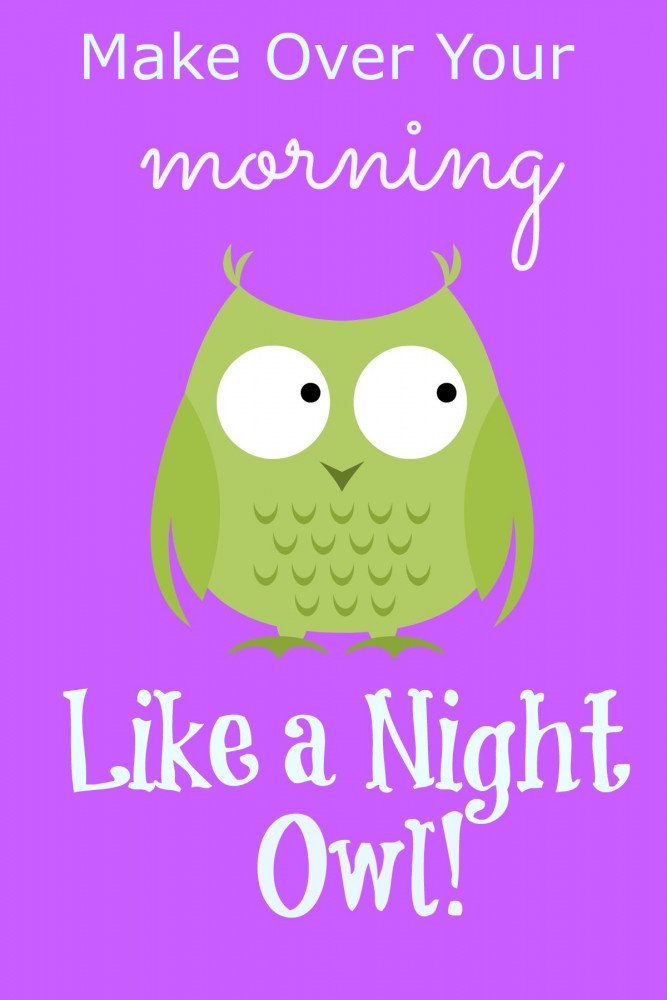 I've mentioned before that I signed up for the Make Over Your Morning Course by Crystal Paine, of MoneySavingMom.com.
I can't tell you how many of my friends have asked me how that's going! And some of you mentioned the same misgivings that I felt:
"I saw the part about her waking up at 5:45am, and decided that is not for me."
I love that I have friends that I can relate to.
I have friends that are morning people too, and I'm always trying to get into their heads and figure out HOW they do it!
I asked one of my high energy friends this question– How do you get up so early?
She said, "Oh, I just love getting up early in the morning."
Oh….
I figured she must have a great deal of self-discipline to make herself go to bed early enough to be able to get up before 6 every morning, so I forged on with my cross-examination:
"But how early do you have to go to bed to be able to handle waking up that early?"
And that's the part where she admitted that she goes to bed around midnight but just doesn't need that much sleep.
Which confirms it. She (and many others of you) is not human at all, but instead she is a super-human and must be of an entirely different species.
And that's okay!
My body works completely differently from hers, and you know what?
That's okay too!
Why should I begrudge her the gift of needing little sleep? Why should I beat myself up over my need for at least 8 hours/night? I am finished feeling ashamed that at 7 am, I often look like this:
I get up between 7 and 7:15 these days, but that is not always the case. Right now, Alan is in graduate school, so he keeps later hours than our norm. I'm one of these people who has to stay awake until everyone goes to bed. I can't help it. I do. Since Alan stays up later right now, I do too.
I've tried to build myself schedules that did not allow for my sleep needs. Last year, I thought that in order to be a successful home school mom and blogger, I needed to wake up every morning at 6 am.
And I turned into heavy-eyelids-unhappy-snappy Mommy. No, thank you. I couldn't even finish my day. I'd spend from 2 to 4 every afternoon just sort of laying on my bed and staring into space the whole first nine weeks of last school year!
Gradually, I realized that if I want to be a good mom, I need to sleep until 7.
Now, I have good news about the Make Over Your Morning course.
One change that she does not say that you have to make, and believe me, I refuse to do it, is getting up earlier.
Some people may genuinely need to wake up earlier, so you may feel lead that way, but that's not what the course is all about.
So far, I'm only on day 7. It's been more about reminding you to prioritize your time in order to be more productive, setting ACHIEVABLE goals for yourself, and having good morning and evening routines.
I love the videos of the Make Over Your Morning the most. It's like listening to a motivational speaker everyday. I particularly loved this You Tube video, which is also referenced in the course:
It's called "Dispelling the myth that I do it all". No one does 'it all'!
Some of you have asked if I made any changes from the series.
Yes! It has been a great reminder about setting attainable goals and breaking those goals into small tasks, but those were things I already KNEW to do. I just wasn't necessarily doing it.
Here are changes I am making:
1. Spending less time on Facebook. Most of you already know that I spend too much time on there. I was able to cut back by NOT putting the Facebook app or log in on my new phone. I only check Facebook when I'm on my computer now.
So don't think that I don't like what you're posting! It's just that I'm reading FB a lot less!
I used to enjoy FB, so I spent way too much time on there, but lately it's been full of extreme political stuff. And all that Planned Parenthood mess? Oh my gosh. That makes me want to throw up. I know the public needs to know about it, but I just can't read it. I've had too many babies to be able to think about it.
2. Setting home school prep goals. I'm knocking them out a little at a time.
3. Getting up earlier plays no part in that!
4. I set a hard "Nap time is blog time rule." So, at this moment, it's 1:20, and I haven't even finished cleaning up lunch, but JD and Dan are asleep, so THIS is the ONLY good blog time.
Also, there are a few advantages to being a night owl that doesn't wake up at 6!
It's not unusual to find me at 9:30 pm, scrubbing carpet stains out and vacuuming, something a morning person probably couldn't do. Have you ever cleaned carpet stains out while the kids are still awake? It's impossible. They track dirt on top of the wet carpet, making it worse!
I have the energy to clean the kitchen up before going to bed. Many people can't do that!
I can stay up late making lesson plans without falling asleep. I'm not sleepy, even at 10pm!
We all just have to work within the framework of who we are. No need to try to be somebody else, right?
I can't wait to finish this series. If you'd like to join me, here's the link to the Make Over Your Morning site. Just click on the picture below:
Be sure to follow my blog on Facebook, and we night owls can encourage each other!