A Quiet House, Thankfulness, and Sweet Relief
My house is quiet! My house is quiet! Did I mention my house is quiet??
The oldest children are off on a play date. JD is taking his nap, and the house is quiet.
Can you feel the excitement??  I'm so excited; I could dance around and make carpet angels……if I had more energy. However, I'm old, and I spent all of my energy on teaching them and making their lunch, so instead I'm going to throw a VIRTUAL party, sitting right here, with my laptop. 🙂
Okay. I will calm down now and try to share what's on my brain. I just heard a noise, and I sincerely hope that it was the wind and not a two-year-old waking up. I'm sure none of you want to see a grown woman cry.
Let's talk about what's been going on lately.
I'm still glowing from the women's retreat. Real life is back in full force, but all's well.
Every time I hear "all's well", I think of Disney's Robin Hood and the little vultures that shouted, "It's two-o'clock, and ALLLLLLL'S WAYEL! ALLLLL'S WAAAAAYEL!"
I only watched that movie 100 times when I was a child.
So yes, "All's waaaaaayel!"
This weekend:
I was on my last pair of contacts because I keep forgetting to go pick up the new ones. JD broke the leg off of my glasses. Then the power went out for almost 24 hours! For a minute, I was worried I'd never get to see again. Ha! But all's well that ends well.
I lost all of my home school paper work that was overdue to my umbrella school. We are not our own private school this year. This year I wisely chose a local Christian school to be a part of, which will make the move go much more smoothly.
So those were my issues, but those things have all been taken care of, for the most part. I totally just took all four boys into the eye clinic with me and picked up my new contacts. It was a long 20 minutes and a whole lot of little boys making faces at themselves in the mirror, but it is done. Phew.
Caleb has been improving in soccer like never before. Two games ago, he had SIX goal attempts. The goalie caught every single one, but we were still thoroughly impressed. Go, Caleb!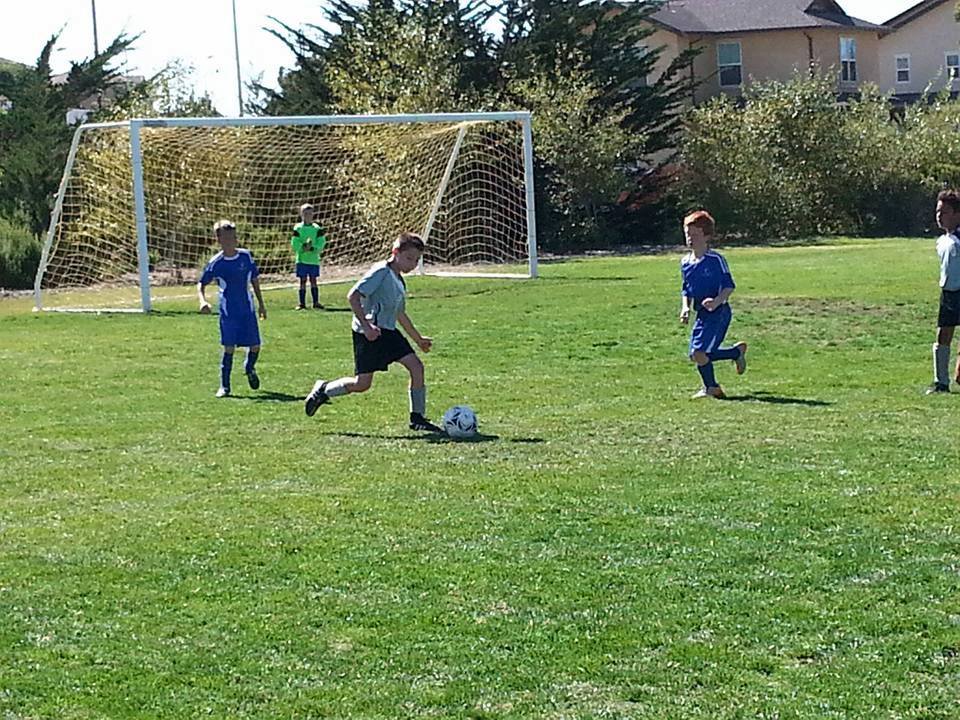 Daniel is tearing it up in pre-school. I'm as pleased as punch. I hit upon three must have tools for FUN pre-K learning:
Chutes and Ladders: This game will drill numbers, counting, and how to play a board game into a kid's head like no other. Even for K and 1st grade it's helpful because every board space is numbered, all the way to 100, which reinforces the higher numbers.
Alphabet Bingo: Now that Dan knows most of his letter sounds, this is perfect. We don't call letters by their name, but by their phonetic sound, which makes for a quick transition to reading.
Popsicle Number Puzzles: Aunt Amy created a pre-school kit that is mega, mega wowza. Both littles love the craft stick-puzzle activity the best; I mean now that they've used up all of the sticker shapes. Here is the kit:
Alan was privileged to go fishing in Big Sur with his friend Luke last week. If any of you are dying for ling cod, stop by, and we'll give you a few fillets from our freezer. Alan caught the maximum allowable amount. Alan rarely does anything like this, so I can't tell you how excited we were for him.
Update on the back drama:
I have this ongoing hip, shoulder, lower back, and finger tip pain problem. Well, actually my fingers aren't in pain. They are just sensitive to the touch, and I have trouble with fine motor movements. Plus, I get these random low fevers that only stay 24 hours (thankfully) and then go, but that's been happening for a year now.
I still say I have psoriatic arthritis. I have ALL the symptoms, except for "sausage fingers". I just haven't asked my doctor about it, which I need to do.
Anyway, whether it is just a mechanical issue from always using all the wrong muscles or an arthritis issue, either way EXERCISE helps.
The only catch? I'm out of the exercise habit. I still walk daily, but that's about it.
Enter physical therapy round #2. I'm very happy with my PT team, Ryan and Jesus. Yes, that's Spanish, so it's pronounced Hayseuss. I asked him if anyone ever calls him "Jesus" (pronounced the English way). He said, "No," and I don't think he laughed. Ha! I told him that just means he's never been to the South because I know plenty of folks back where I'm from that do not know the Spanish pronunciations of anything.
I still laugh when I think of one family member calling queso, "queso," pronounced the English way, at a Mexican restaurant.
Okay. Sorry. I got off topic. My point was two-fold:
#1. It will make their lives easier to know at least a little Spanish, so I do think that's important for children raised in America.
and
#2. I'm hoping my chronic back pain issues will continue to get better as I go through my second round of physical therapy. It's a terrible thing to pop Advil all the time. (Don't worry. I typically only take a couple/day.)
It's bed time that bothers me most. Who can sleep with an unhappy hip or back?
Don't worry about me, though. Most of the time I'm so busy I don't even notice it, and if I would take better care of myself, this would improve.
Which brings me to next year…..
We are now 8 months out from our next big move. We aren't 100% sure where we are going, but we think we will be headed right back to where we came from. I'm researching the schooling possibilities, and this may come as a shock to some of you, so hold onto your seats:
I do not plan to home school the boys next year. I will explain more in a far-in-the-future blog post. I'm thankful I got to do this. It has been so ridiculously hard, but it's also enlightening.
I have been forced to better discipline my children, and of course, that's always a work in progress. They are people, after all.
I have had to prioritize deeply. I often scold myself for not doing things I would like to be doing, but the fact is that it just wasn't a priority. The priority was educating and promoting character growth in my boys.
These boys are my charges. It is my duty to lay down everything else, if need be, to ensure that these boys are raised properly. Alan and I take responsibility for the kind of character that they are or are not developing. Even when I'm not home schooling, that will still be our responsibility as parents. 
I'm continuing to read all I can get my hands on about home schooling and learn from other moms who have done this before me! I may do it again, other years, as needed. Meanwhile, it gives me a great feeling of sweet relief to know that I have several options for next year. It makes the next 8 months feel more doable!
God has provided for me each step of the way, and I see His miraculous work in my life everyday. Some people say there are no more miracles. I guess I am ignorant as to why they say that. I hope no one ever informs me because I still see miracles happening, every single time that I see God intervening in my life. To me, that is a miracle.
I hope you all have a miraculously fabulous week.
…6Be anxious for nothing, but in everything by prayer and supplication with thanksgiving let your requests be made known to God. 7And the peace of God, which surpasses all comprehension, will guard your hearts and your minds in Christ Jesus.                            Philippians 4:6-7
"And let the peace of God rule in your hearts, to the which also ye are called in one body; and be ye thankful."    Colossians 3:15