When We Met Matthias: Story of a Military Family
I've kept a tiny secret from my blog audience. Well, not all that tiny…8 pounds of secret at least…
No…I didn't have another baby. I did better than that. We brought this baby home with us, but we haven't taken leave of our senses. We brought his mama home with us too.
hehehe Aren't they precious?
It was just a few weeks, a few of the fastest weeks ever. See, Emma's husband is a friend of ours, from church, and he is in the military. Church family is real family because many of us don't have the luxury of having family anywhere nearby.
When you're in the military, you aren't the only one making sacrifices for your country. Even your spouse makes sacrifices, yes, most of us realize that. But people often forget who else makes sacrifices…
Our babies. Our children. Our teenagers. They sacrifice having their military parent there for birthdays, for Christmas–ouch! Christmas, and God forbid, even sometimes for births. Not to mention the service members who never return at all, leaving whole families motherless or fatherless, not just for months or years but forever.
But don't worry. Emma's husband, Richard, did actually manage to fly in for 3 days. He was there just long enough to be there for labor, delivery, and a little of the hospital stay before he flew back out again. Babies come no matter what orders dictate. And you can't plan a family around the military. We decided that long ago. It's too uncertain. You just pray for the best.
God greatly provided for this sweet, new family. I can't imagine giving birth without your husband there, but it does happen to military families all the time. So glad that wasn't the case here.
Well, Emma's labor and deliver went beautifully. But once the baby is born, the work doesn't end there. And to compound the situation, this young family was also in the midst of moving. We were so happy to get to be a part of it. We simply moved JD in with Dan, and believe me, they loved that, and we made the nursery back into a nursery again.
When I moved into this house, I thought, "Wow! 5 bedrooms! Wow!" It's a gift to have so many rooms, and gifts are meant to be shared.
"Do not withhold good from those who deserve it, when it is in your power to act."  Proverbs 3:27
And of course, Emma and little Matthias blessed us more than we blessed them. It was such a pleasure to hold a newborn again. Did you know that rocking a sweet newborn baby is good for your heart? Oh, it is. They kept giving us thank you gifts, but we didn't need gifts. This was a wonderful thing to be a part of. I am so thankful. Y'all know I love to be the hostess.
But yesterday morning I drove these two to the airport because they are flying overseas to be with Emma's parents for a couple of weeks, and then Emma and Matthias will reunite with her husband and move to their next duty station. Matthias is literally gong on tour first to meet all of his people.
There are no lengths that a military family won't go to to see the grandparents. It's such a unique lifestyle. Matthias is 3 weeks old, and he has more stamps on his passport than most of us! Yes, he even has a passport!
Matthias has gotten a quick introduction into the strange lifestyle that we lead, as military families.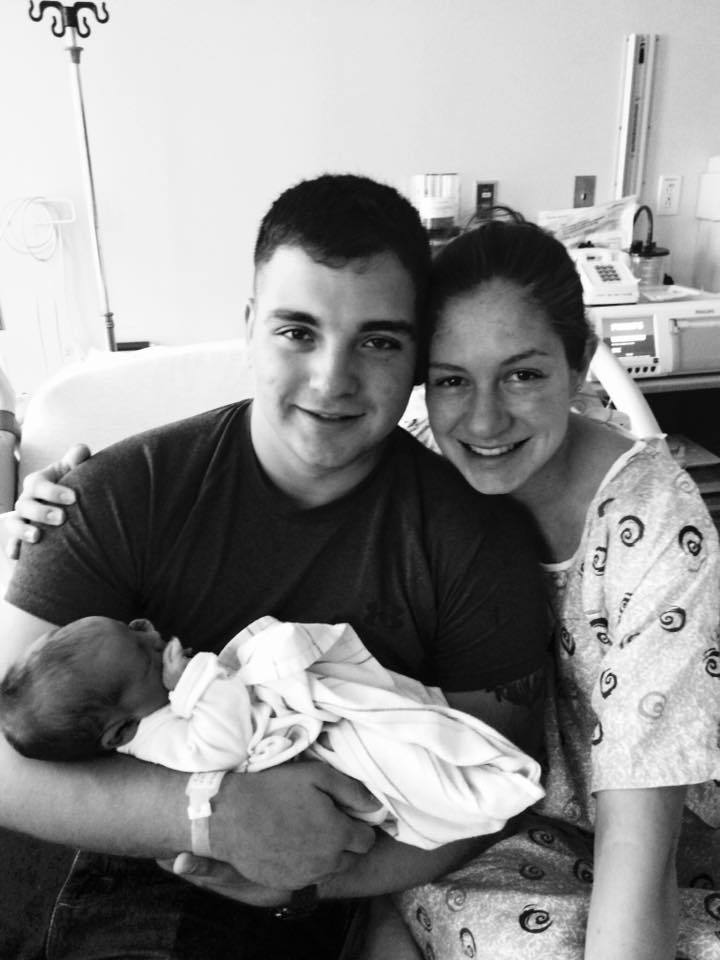 And in only 4 more weeks our not-so-young-and-little family will also be reminded, as we up-root yet again for our 9th move. Yep. 9th. 
But it's a great adventure. And I say bring it on. God bless, Emma! Thank you for sharing some time with us! We will miss you all!