Military Marriage Retreat at the Cove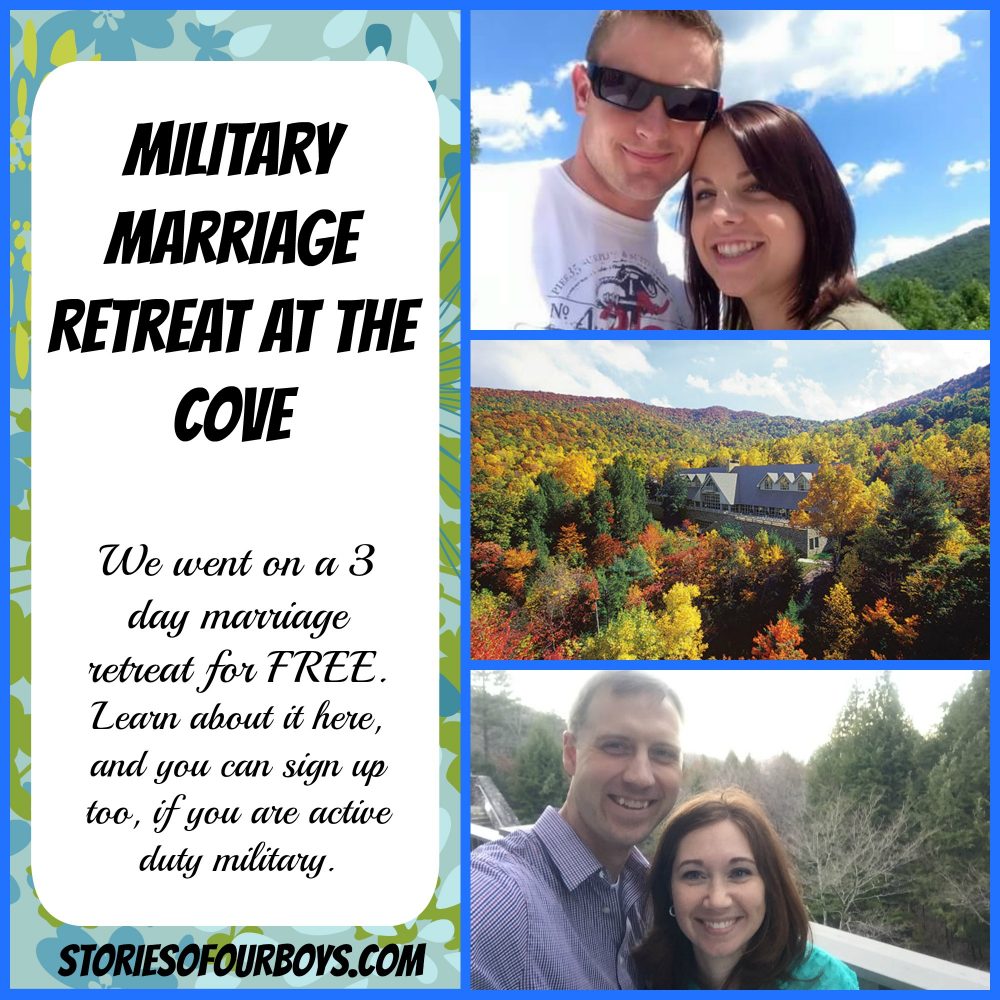 Last weekend Alan and I packed our suitcases and drove up to Asheville, North Carolina. We left the kids in the capable hands of my parents, and we enjoyed a peaceful weekend in the mountains. Oh, and by the way, all we had to pay for was the gas to get us there.
Not too long ago, Alan learned of the Cove, a retreat center owned and operated by the Billy Graham Evangelistic Association. They host retreats, Bible studies, training events, prayer events, and even Senior Hymn Sings.
But the coolest thing for us is that they host these marriage retreats for military couples–FOR FREE.
Free is good. We like free.
There are 3 different ones this year, but why waste time, we went ahead and signed up for the February retreat.
I had no idea what to expect, really. I was a little nervous, as I am in all new social situations. We didn't go with a group or anything, so we were on our own.
Upon arrival, we checked into our room. The Cove has two hotels on site. We stayed at the Pilgrim's Inn. The room was immaculate. It had two queen size beds, a table with 2 chairs, a rocking chair in the corner, a luggage stand, a dresser, 1 sink in the room and a bathroom with another sink.
I expressed my joy over there being two sinks. Alan said, "Well, the key here is not to destroy marriage [by making us share a sink]. Haa!!!!
On the third floor, the inn has 24 hour drink machines, complete with coffee, tea, and sodas! We did take advantage of that!
We got our stuff put away and headed up the hill to the convention center. Now, when I say up the hill, believe me I really mean up what felt more like a mountain. I'm surprised my legs aren't more sore. This hike was not for the faint of knees.
The first thing we noticed on our hike was a "Beware of bears" sign.
Huh.
But as it turns out, black bears are known to be docile, not aggressive like the grizzlies.
After we checked in at the convention center and read over our itinerary, I admit I actually got a little uneasy.
Wait a minute. This itinerary here says "1-6pm Alone Time with God"….
I whispered to Alan, "Do you think they expect us to spend the WHOLE time with God, or is going to see the Biltmore Estate okay too?"
And suddenly it dawned on me.
"Alan!!!! Was there a t.v. in our room?"
We've been kidnapped. Gasp! What if there is no Wi-fi either?? What if we are supposed to have prayer and meditation and togetherness, sing cum-ba-ya, and hike up mountains all afternoon???? Will we survive???
Alan chuckled. Don't worry. I had not said all of those things out loud.
"Yeah, you put your suitcase on the dresser. So I'm pretty sure there was no t.v."
We both looked at each other with the wide eyes and giggled. This should be interesting…..or challenging…..hmmm
Soon after our no-t.v. discussion, it was time for dinner. Ya'll!!  The food! If you don't love the speaker, though I think you will, the food will win you.
We made awkward conversation with other couples that we met, and then it was time for the first marriage seminar.
These seminars were more than seminars. It was like giant group marriage therapy, where thankfully we didn't have to do any talking. We did; however, get to sing together. We sang at the beginning of each session, mostly songs that we knew or had heard before. The singing was one of my favorite parts. The song leader was an expressive and talented guy with both piano and guitar skills.
The speaker was a pastor and retired Army chaplain,Pastor John Cook, from Fayetteville, North Carolina. He was not only interesting. He actually knew where we were all coming from, having lived the military life himself. He taught what the Bible has to say about marriage, and I managed to totally pay attention to all 3 sessions, believe it or not.
They change up the speakers at each retreat, but I'm sure they're all good.
By the way, the convention center has cappuccino and frozen yogurt on tap, available during the day time. That came in handy during the on-your-own stretch of Saturday.
You may be wondering if I ever did make it to the Biltmore Estate. Well, no, I didn't. Alan looked it up, and it wasn't a good time for us to devote the hefty admission prices for as little time as we would have gotten to spend there.
We were able to enjoy simply resting, relaxing, hiking, and talking at the Cove. We even did a little shopping at the on-site book and souvenir shop. We never did miss the t.v.
Here are a few fast facts for ya:
–I did not see any other marriage retreats on the schedule besides the military ones. 🙁 Sorry, my civilian friends. However, there are tons of events that last all weekend that you could sign up for.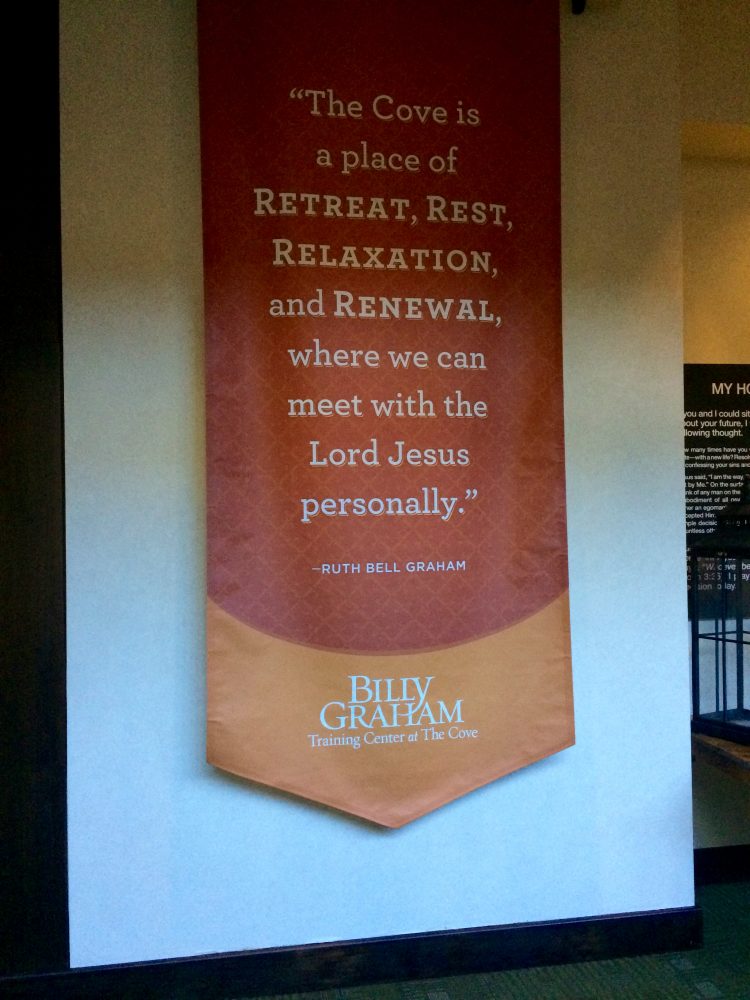 —Next Military Marriage Retreat is May 26-28, 2017. Experiencing God's Best for Your Marriage. Speaker: Chip Ingram 
Literally EVERYTHING is FREE. Free meals. Free room. Free seminar. Click here to sign up. It's open only to active duty military. Yes, Reserves and National Guard counts, so long as your active.
–There's another Military Marriage Retreat September 8-10, 2017. The Art of Living Well in Marriage. Speaker: Tommy Nelson
Again, it's all free for active duty military. Click here to sign up.
Other Events at the Cove do have costs. Just click on the links below. Many of these are also weekend-long retreats. Some are just evenings or luncheons. Just click through for details.
Pastor Retreats (for pastors)
We would like to personally thank the Graham family and the Billy Graham Evangelistic Association for using their facilities and talent to serve those who serve our country. This is a blessing to so many families!
Pouring into your marriage relationship is so vital to the overall happiness of your whole family. Kids grow up, but hopefully when they have left, you still have a spouse you can love and grow old with. It's such an important relationship to nurture. Happier parents = happier kids.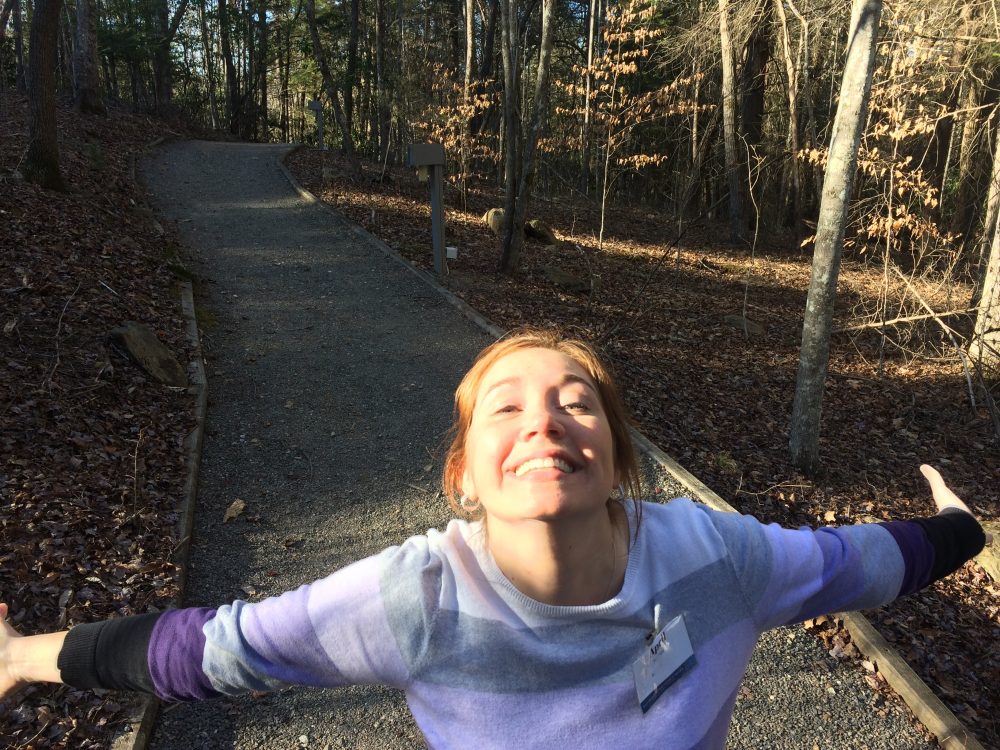 Our thanks again to the Cove!!! This was like a breath of fresh air!