Why Capernaum was Our Favorite City to Visit in Israel
****Disclosure statement: When you purchase items through links on my page, I do earn a fee.****
After we left Nazareth, we hopped back on our bus and rode through the ever-so-bumpy streets of Cana. You've heard of Cana, where Jesus turned the water into wine?
We didn't actually stop in Cana. Another destination was on our minds: Capernaum and the Sea of Galilee!!!! Eeeeeee!!!! So excited!!!
That bus ride was so bumpy that my Fitbit credited me with climbing about 200 flights of stairs. Yeah. I earned so many badges. Hahaha! I tried to make it stop. The Fitbit would not listen.
Have you ever gone somewhere so incredible that you don't even know how to begin to tell people about it?
This experience was surreal. What we saw there filled me we awe and affirmation of faith. Not only do you get to see where Bible events took place in Capernaum. You actually see the ancient stone ruins of the buildings.
Suddenly you realize that you are actually walking in the footsteps of Jesus. You are in the territory of faith and miracles. The synagogue and the houses are still there, and you can see them! It's a powerful sight to behold.
I love that we went from Nazareth to Capernaum because guess who else traveled directly from Nazareth to Capernaum, around 2,000 years ago?
"And leaving Nazareth, He came and dwelt in Capernaum, which is by the sea, in the regions of Zebulun and Naphtali, that it might be fulfilled which was spoken by Isaiah the prophet, saying:

'The land of Zebulun and the land of Naphtali, the way of the sea, beyond the Jordan, Galilee of the Gentiles: the people who sat in darkness saw a great light, and upon those who sat in the region and shadow of death light has dawned."

Matthew 4:13-16
Yep!!  Jesus!! And here are the ruins from his time period:
Side note: we did not get to go over and visit the Greek Orthodox Church, but if you have a chance, go see it. The art in the domes is amazing. You can see pictures of that here.
According to the Jewish Virtual Library, it's called the Church of the Seven Apostles because this is where Jesus appeared to seven of his disciples on the sea.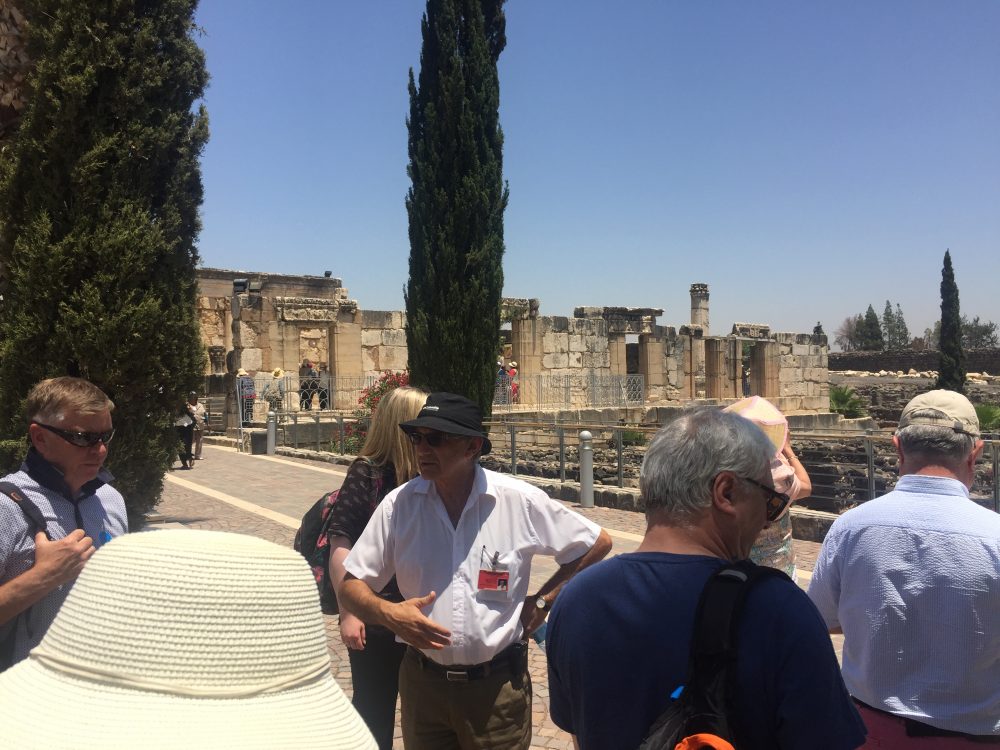 Our tour guide explained many things, yet I can't remember much of what he said. I was all in a nerd tizzy about these ruins. I wanted to stand and stare at them. Then I wanted to climb the guard rail and touch and study every single wall. Hmmm… I seem to have a little Caleb in me (my adventurous son who MUST touch everything).
How is ancient Capernaum in tact and abandoned while Jerusalem is completely built up?
History can be a mysterious thing, but I believe God did this on purpose. Here was a place we could get a glimpse into history, much more so than you could do in Jerusalem because Jerusalem is heavily populated and has been conquered so many times.
Capernaum is amazingly well preserved. In fact, even the little house they believe was Peter's had "Peter's house" written in the walls, which they found when they dug it up.
According to Israel Tours, one reason why Capernaum did not get attacked was that they did not take part in the Jewish revolts against Rome.
No one knows why the town was rebuilt in another area, leaving these homes abandoned. However, they do know that there was an earthquake on Jan. 18, 749 A.D.
23And thou, Capernaum, which art exalted unto heaven, shalt be brought down to hell: for if the mighty works, which have been done in thee, had been done in Sodom, it would have remained until this day. 24But I say unto you, That it shall be more tolerable for the land of Sodom in the day of judgment, than for thee.   Matthew 11:23-24
Hmmmm…maybe that's why Capernaum was abandoned…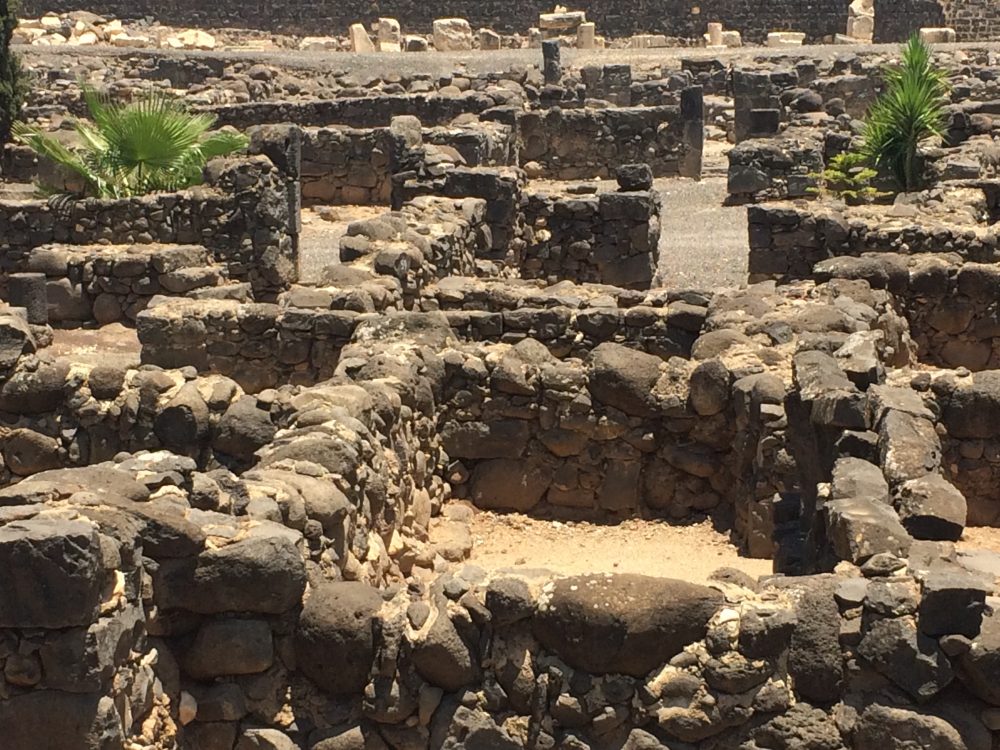 I couldn't help but wonder if Jesus sat in some of these tiny rooms. Did people sit around their tables here and talk about the miracles?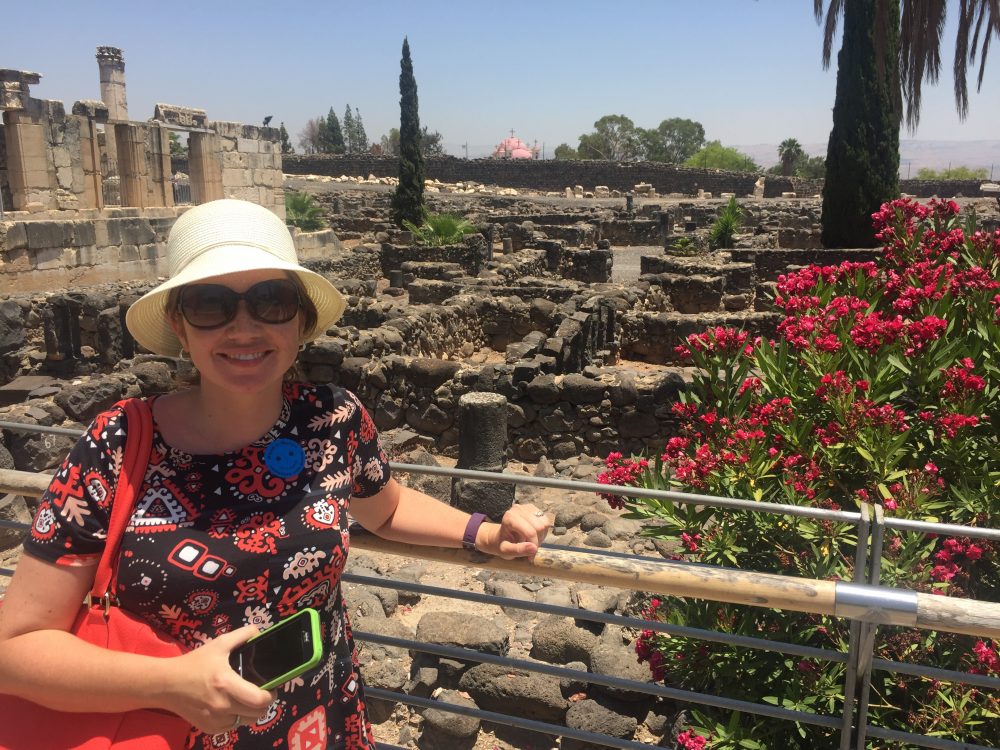 5And when Jesus was entered into Capernaum, there came unto him a centurion, beseeching him, 6And saying, Lord, my servant lieth at home sick of the palsy, grievously tormented. 7And Jesus saith unto him, I will come and heal him.  Matthew 8:5-7
The Synagogue
21And they went into Capernaum; and straightway on the sabbath day he entered into the synagogue, and taught. 22And they were astonished at his doctrine: for he taught them as one that had authority, and not as the scribes.                   Mark 1:21-22
Jesus healed people in this very synagogue.
You see the white stones? Those are 4th century.
You see the black stones at the bottom? That's the original Jesus-era synagogue!!!!
The oldest ruins are all in black stone because that is the color of the local rocks.
In Jerusalem, everything has a giant Crusader-built monument on top of it. The only place I truly felt like I was seeing something from ancient times was at the Western Wall.
But Capernaum does not disappoint. This place inspires. It is a breath of fresh air, which is just another reminder of how the Lord can take something forgotten and abandoned and turn it around to be a thing of utmost beauty and inspiration.
14When Jesus arrived at Peter's house, He saw Peter's mother-in-law sick in bed with a fever. 15He touched her hand, and the fever left her, and she got up and began to serve them.… Matthew 8:14-15
You can read these Bible accounts of Jesus and his disciples over and over, the stories of fishing in the Galilee and of Jesus walking on the water, and not realize just how close together it all is.
"As Jesus was walking beside the Sea of Galilee, he saw two brothers, Simon called Peter and his brother Andrew. They were casting a net into the lake, for they were fishermen. 19"Come, follow me," Jesus said, "and I will send you out to fish for people." 20At once they left their nets and followed him.
21Going on from there, he saw two other brothers, James son of Zebedee and his brother John. They were in a boat with their father Zebedee, preparing their nets. Jesus called them, 22and immediately they left the boat and their father and followed him.
Jesus Heals the Sick
23Jesus went throughout Galilee, teaching in their synagogues, proclaiming the good news of the kingdom, and healing every disease and sickness among the people. 24News about him spread all over Syria, and people brought to him all who were ill with various diseases, those suffering severe pain, the demon-possessed, those having seizures, and the paralyzed; and he healed them. 25Large crowds from Galilee, the Decapolis,g Jerusalem, Judea and the region across the Jordan followed him."
Matthew 4:18-25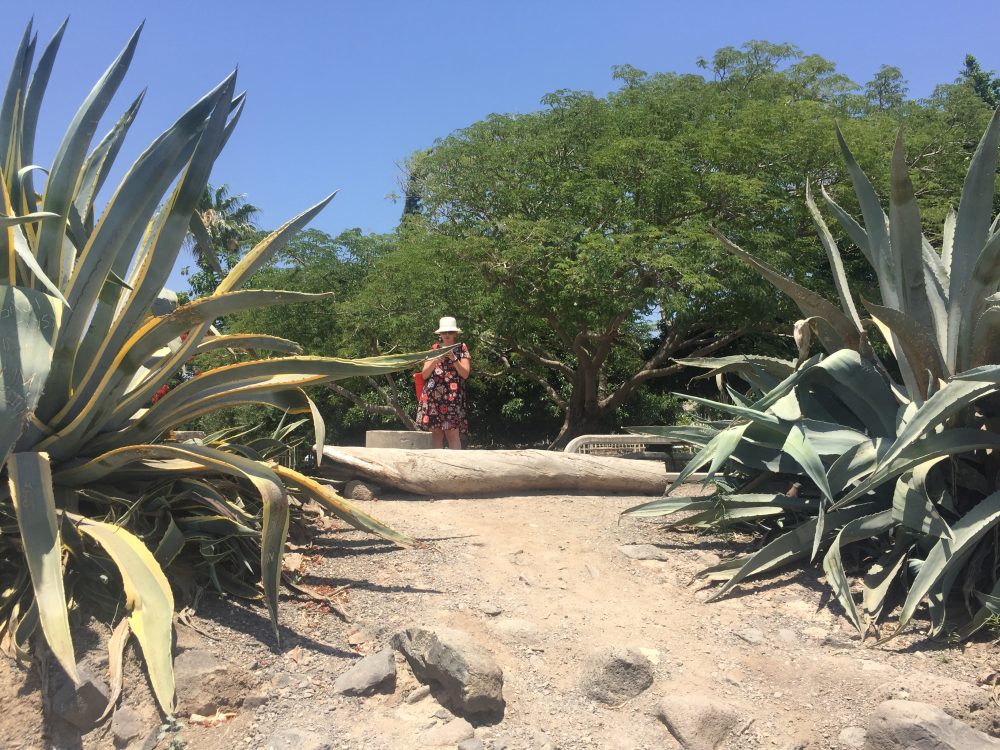 This ancient part of Capernaum is taken care of by the Franciscan monks who have a monastery here. They are also the ones who discovered the rich archaeological finds in Capernaum, when they purchased the land in the late 1800s.
Peter's house wasn't discovered until 1968!!!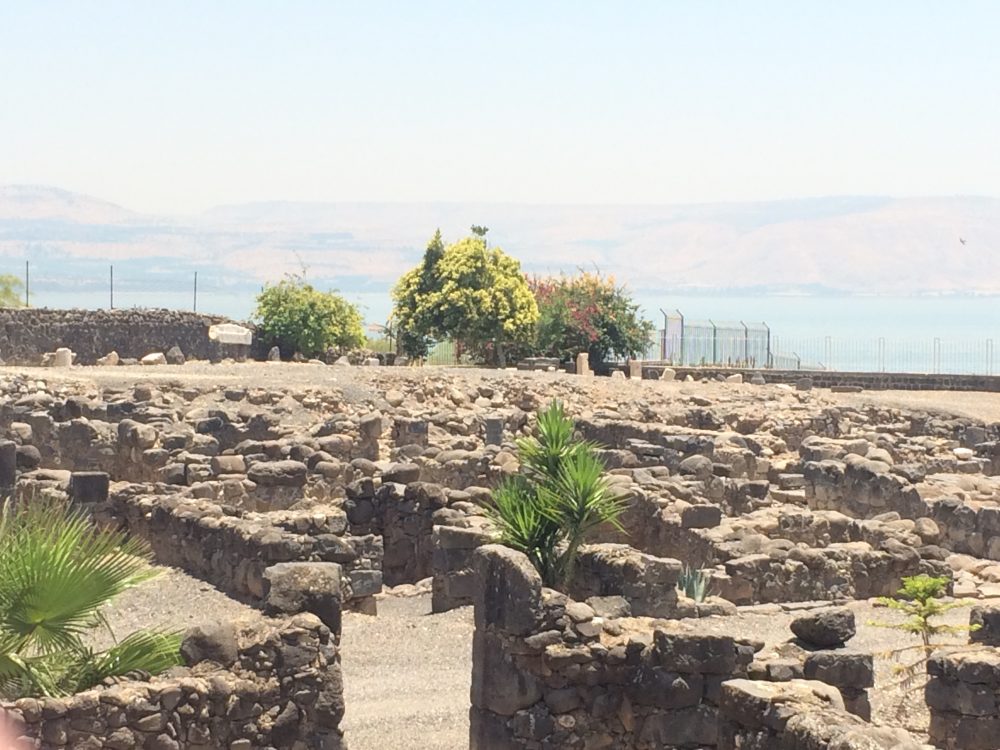 And when he returned to Capernaum after some days, it was reported that he was at home. 2 And many were gathered together, so that there was no more room, not even at the door. And he was preaching the word to them. 3 And they came, bringing to him a paralytic carried by four men. 4 And when they could not get near him because of the crowd, they removed the roof above him, and when they had made an opening, they let down the bed on which the paralytic lay. 5 And when Jesus saw their faith, he said to the paralytic, "Son, your sins are forgiven."                               Mark 2:1-5
Even the gates of Hades will not overcome Christ's church.
15"But what about you?" he asked. "Who do you say I am?"
16Simon Peter answered, "You are the Messiah, the Son of the living God."
17Jesus replied, "Blessed are you, Simon son of Jonah, for this was not revealed to you by flesh and blood, but by my Father in heaven. 18And I tell you that you are Peter,b and on this rock I will build my church, and the gates of Hadesc will not overcome it. 19I will give you the keys of the kingdom of heaven; whatever you bind on earth will bed bound in heaven, and whatever you loose on earth will bee loosed in heaven." 20Then he ordered his disciples not to tell anyone that he was the Messiah.     Matthew 16:15-20
This has run long, so I will save my store of beautiful Sea of Galilee photos for the next Israel post. So many important things happened here!!
Want to see MORE Israel? Here are a few of my other posts in this series:
SaveSave
SaveSave
SaveSave
SaveSave
SaveSave
SaveSave