When Your Oxen (I Mean Kids) Are Messing Up Your House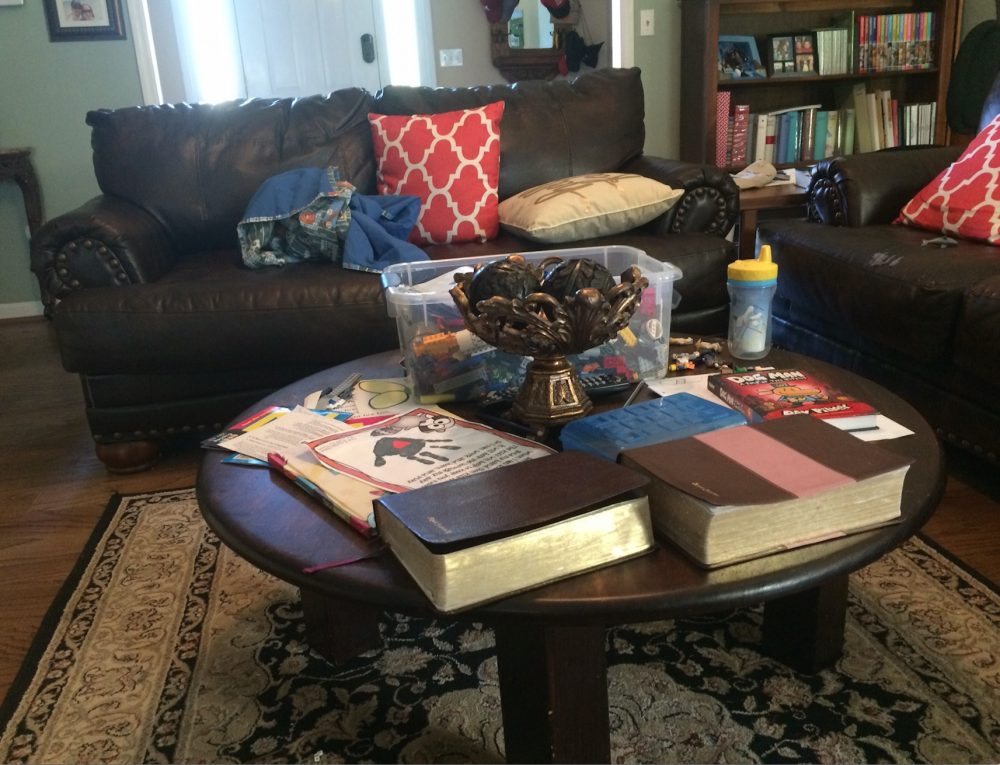 My coffee table is covered in children's books, a box of Legos, my Bibles, a box of crayons, a sippy cup, and ALL the little Lego men that I swept out from under the couch this morning.
There's also a few preschool crafts and the remote control to the t.v.
Then there's the center piece, all buried in there. It's supposed to be an ornate pedestal bowl of THREE ornamental balls, but of course someone broke one…..when they were using it as a bowling ball, I believe.
Most of my house is as cluttered as that little table. I won't even bother lying and saying it's just because we've been busy lately.
Busy lately? Ha! It's been pretty high tempo since about 2011.
We, like most American parents, live a little overwhelmed, stressed, sleepy, tired, and yes, we're busy lately.
I rushed home from volunteering in the library this morning (BEST job ever– I love it so much I have trouble making myself leave it). As soon as I pulled in the driveway, the LOWE's people were here with our new dryer.
Only I was being thrifty and purchased a dented dryer, so I have to send it right back because the drum is rubbing the dent in the side, making quite a loud racket. Problem not solved…
I unloaded the dishes and made myself lunch, but I needed some words of comfort.
Words of encouragement go a great distance when life is an uphill climb.
Kindness I read from a blogger a few years ago came back to me as I sat in my favorite chair, staring at that cluttered up coffee table.
She's a mom of five boys, but she doesn't blog anymore. Still what she said is with me though, and her words were so wise…
 Proverbs 14:4
Julie (the blogger) said that this verse reminded her of her life. Her house is full of oxen, and so her stable is never clean, but look at all the glorious benefits of having a house full of children, 5 boys in her case.
Yes, people without……oxen……have tidier spaces. People with more OCD may also be better at it.
People with the tidy mangers even occasionally say hurtful things to us.
In the past four years, several folks have (surely unintentionally) hurt my feelings about my house. They didn't get it.
But what is that to us?
Our life is richer thanks to these oxen. There's not a parent worth having who would not agree that their children are their greatest blessing.
Sometimes I'm actually embarrassed to tell people about all my children because it feels like bragging, which we try not to do!! This glorious blessing is not something any of us take lightly.
Empty stalls are for retirement. No thanks. I'd rather have my coffee table full of toys and my arms full of hugs. An empty nest will be something to embrace later, and I'm sure by then I will be ready for it.
For today, It's better to have…..
coloring books in my dining room than empty place settings
Clean school shirts to fold on my couch than tidy rooms with no inhabitants
Video games in front of the t.v. than knick-knacks collecting dust
baseball hats on my hall tree than empty hooks serving no purpose
dried toothpaste in the boys' sink than a guest bathroom that's rarely used.
We can only clean so many areas at once, ya know? You do your best.
These little souls, made in the image of God, are put in our care for a season. It is our most precious duty. There is none like it, the charge to guard and bring up your children, both flesh and blood and adopted.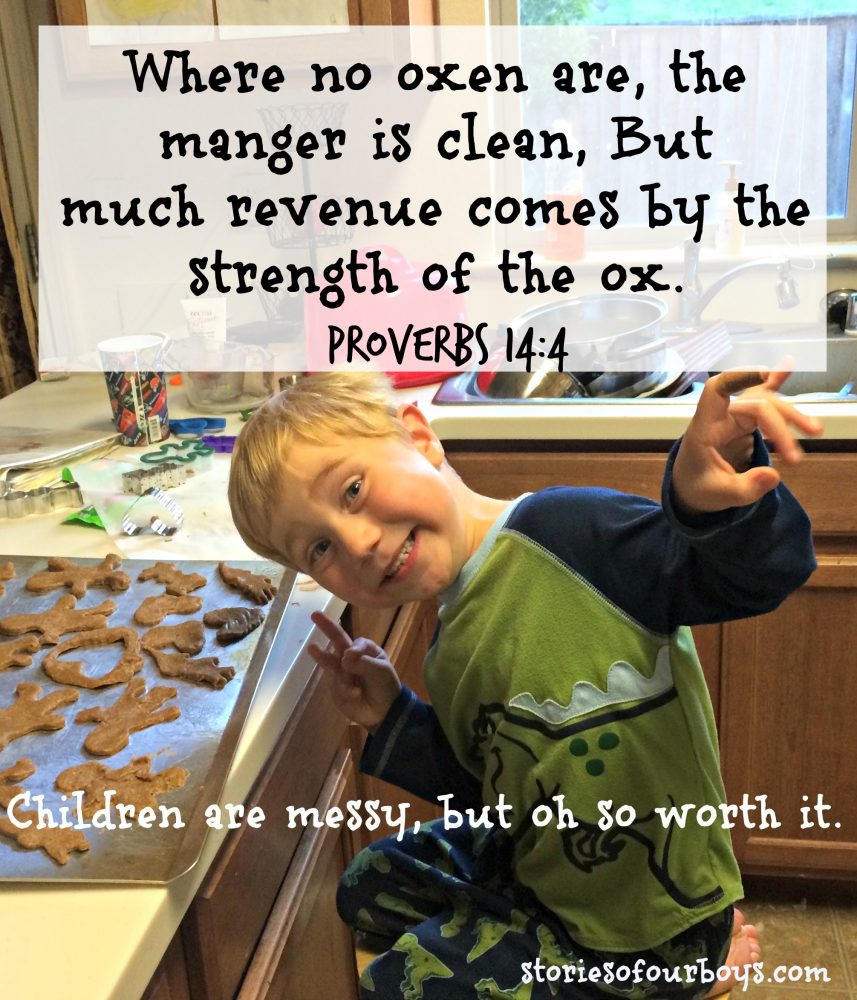 And yes, it's a messy job, but what a privilege!! What a privilege to have a house cluttered with preschool art and marked with chubby handprints. Be still my heart.
Eventually we will all be older and in a newer, cleaner phase of life. We will think we are still so busy because it will be hard to remember all this that we are doing now.
Maybe we'll even shout to the neighbor kids to keep off the grass. Oh, I hope that's never me.
But for today, the manger is full, and from the strength of the oxen comes the abundance of the harvest, and I am thankful. I hope you are too.
SaveSave